The latest news in our Motoworld
Click the links or the videos to read or see more.
Free classified ads on https://www.motorcycletimes.com/classifieds-2/place-ad/  Free to sell, Free to browse, Free to respond. You do not even have to register! It is FREE!
BLACK FRIDAY T SHIRT SALE EXTENDED THROUGH SUNDAY NIGHT UNTIL 11:59PM! TAKE AND EXTRA 10% OFF OUR ALREADY LOW PRICES! FREE S&H STILL APPLIES TOO!  
Motorcycle Times will have a booth at the Timonium Motorcycle Show from February 9,10 and 11th, 2018 Stop by to meet us, say hello and register for a free giveaway ! 
I've been thinking about this video since I first saw it, and now it's crossed my screen again. I am excited and simultaneously repelled by it. Is this our future as motorcyclists?
From Twitter:
https://twitter.com/TracyLoweFox for this picture! (Batman theme song playing in your head)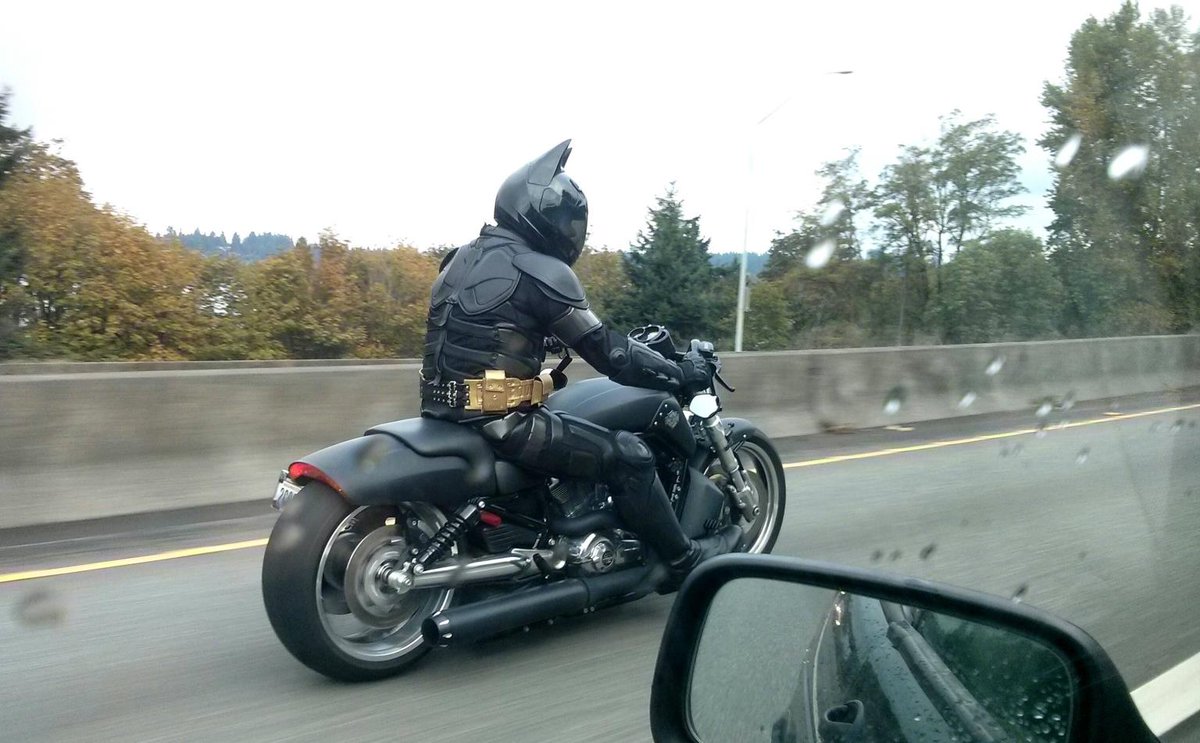 American Motorcyclist Association announces new AMA Extreme Off-Road State Championships

2018 to feature four state championship events 
http://www.americanmotorcyclist.com/Racing/Extreme-Off-Road
Random picture from Pinterest, didn't see any credits.
FROM THE AMA: International Six Days Enduro Qualifier Series dates announced

East and West regional series to decide 2018 U.S. Club Team members
Five three-member U.S. Club Teams will include the top seven riders from the East Qualifier Series and the top seven riders from the West Qualifier Series, with one additional rider selected by the AMA ISDE Advisory Committee.
FROM THE AMA:
American Motorcyclist Association defends motorcyclists' Fourth Amendment rights in amicus brief to U.S. Supreme Court

Unlawful search and seizure protection should cover motorcycles 
PICKERINGTON, Ohio — The American Motorcyclist Association filed an amicus brief with the highest court in the land Nov. 20 defending the rights of motorcyclists against unlawful search and seizure as protected by the Fourth Amendment to the U.S. Constitution.
The amicus brief was filed in case No. 16-1027, Ryan Austin Collins v. Commonwealth of Virginia. The Supreme Court of Virginia ruled that, because Collins' vehicle was a motorcycle and not a car or truck, the officers who searched under Collins' motorcycle cover did not need a warrant to do so. The AMA's brief argues that the judgment of the lower court should be reversed.
AMA President and CEO Rob Dingman stated that the amicus brief points out an example of how motorcyclists' rights can be threatened at all levels — and branches — of government.
"The AMA and its members must be vigilant at all times, because we can never know where the next threat will be," Dingman said. "The U.S. Supreme Court is the final arbiter on matters of Constitutional rights, and the Court's decisions direct the enforcement of law across the country at all levels. When motorcyclists' freedoms are before the Court, it's critical that we speak forcefully and convincingly to defend those rights."
The AMA's brief states: "This Court's analysis should not be affected by the fact the vehicle searched was a motorcycle rather than a car or truck…. There is nothing inherently suspicious — and no inherent justification for a search — in the use or ownership of a motorcycle."
The brief points out that a motorcycle cover is commonly used to protect motorcycles from the elements, to provide privacy and to prevent theft.
"By removing and looking beneath the cover of the motorcycle parked in the curtilage of the home, the police conducted a warrantless search in violation of the Fourth Amendment," the brief continues.
While the AMA's brief expresses no opinion regarding the petitioner's ultimate guilt or innocence of the alleged crime, it emphasizes that motorcycles should not be subjected to unreasonable searches and seizures. The consequences of the erosion of motorcyclists' protections under the Fourth Amendment would be severe.
About the American Motorcyclist Association
Founded in 1924, the AMA is a not-for-profit member-based association whose mission is to promote the motorcycle lifestyle and protect the future of motorcycling. As the world's largest motorcycling rights and event sanctioning organization, the AMA advocates for riders' interests at all levels of government and sanctions thousands of competition and recreational events every year. The AMA also provides money-saving discounts on products and services for its members. Through the AMA Motorcycle Hall of Fame in Pickerington, Ohio, the AMA honors the heroes and heritage of motorcycling. For more information, visit www.americanmotorcyclist.com.
From LinkedIn: Tucker Rocky Files for Chapter 11
It pains me to hear this, but Tucker Rocky just filed for Chapter 11. Is everything ok in our industry? The answer is no.
____________-Dear Valued Business Partner:
I wanted to let you know about an important action our parent company, Motorsports Aftermarket Group (MAG), is undertaking. On November 15, 2017, MAG announced that it is implementing a debt restructuring to eliminate approximately $300 million in debt. MAG is using the Chapter 11 process to facilitate this.
First and foremost, we are open for business and are operating just as before.
You, our valued customer, will not see any interruption in the flow of merchandise and there will be no change in the way we operate. In other words, we will continue to uphold our obligations to you, just as we always have. Frankly, you will likely not even be aware that the restructuring is happening in the background.
MAG plans to move through this process swiftly, emerging from Chapter 11 a stronger, more viable and competitive Company.
We look forward to continuing to providing you with a wide selection of quality products and exceptional service for many years to come.
Best regards,
Kenan M. Ikels
Vice President: Tucker Rocky Directline Distributing LLC
Royal Enfield Showcases Three New Motorcycles for North America at Long Beach
Interceptor 650, Continental GT 650 Twin and Himalayan Models Will Be Available in 2018

Long Beach, Calif. (Nov. 17, 2017) — Royal Enfield is gearing up for a groundbreaking 2018 with the addition of three new models to its lineup of middle-weight motorcycles. The entries are led by the highly anticipated Himalayan model to the North America market. The Himalayan is purpose-built for adventure — allowing for a less extreme and more accessible form of adventure touring. 2018 will also bring the company's newest offerings — the Interceptor 650 and the Continental GT 650 Twin. Both feature the recently introduced 650 parallel twin engine.You can read more at their site, or on Facebook.
From Motorcycle Daily:
A new Bell helmet with built in 360 degree camera!
Some more info on the new Kawasaki 900!
Check back frequently! We update frequently!