DANIEL SANDERS TOPS THE TIMESHEETS ON DAKAR RALLY STAGE 1
GASGAS FACTORY RACING'S AUSSIE HARD CHARGER MAKES THE PERFECT START TO DAKAR 2022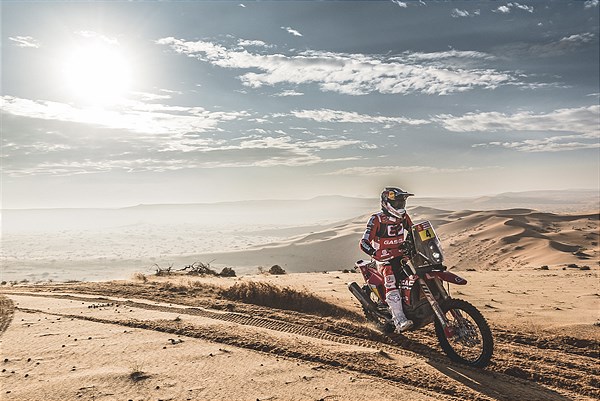 DANIEL SANDERS TOPS THE TIMESHEETS ON DAKAR RALLY STAGE 1
GASGAS FACTORY RACING'S AUSSIE HARD CHARGER MAKES THE PERFECT START TO DAKAR 2022
After setting a blistering time and winning yesterday's Prologue, Daniel Sanders has maintained his impressive speed to secure victory on today's opening stage of the 2022 Dakar Rally! Opting to enter the stage as the 15th rider and chase down the riders ahead, the Aussie's game plan worked perfectly with the GASGAS RC 450F Rally racer winning the special by over three minutes to maintain his place at the top of the overall provisional classification. For Sam Sunderland, despite struggling to find a waypoint along with many of his rivals, the Brit ultimately completed the stage as the sixth fastest rider.
Daniel Sanders leads the 2022 Dakar Rally!
Strong start for Sam on his GASGAS debut
Both riders eager and excited for stage two
Daniel Sanders:
"So far things are shaping up really good. After winning the Prologue yesterday I got to choose my starting position and opted to start in 15th and then focus on chasing after the guys up front. There was some tricky navigation near the end of the special but I kept cool, avoided any huge errors and then l lead the stage to the end. This was great for me as it made sure I focused on my roadbook and as I'll lead out tomorrow – it was good to get a little experience of riding alone up front. I'm excited for tomorrow and looking forward to the challenge ahead."
Enjoying a strong debut ride aboard GASGAS machinery at the 2022 Dakar Rally, Sam Sunderland was well placed and running up front with the leading riders until until finding one of the waypoints late on in the 334-kilometer special proved anything but easy. After losing valuable time along with many of his rivals, Sunderland quickly found his way and pushed to the end of the special to secure his sixth-place finish.
Sam Sunderland:
"The first proper day is done and it's safe to say that we went straight in at the deep end! My navigation was good all day but when we got to kilometer 276 there was a waypoint which was really difficult to find. A few of us went around in circles but once I found it my only option was to push as hard as I could to make up for lost time. It's been a tough first day but there's such a long way to go, hopefully tomorrow will go a little more smoothly."
Results (provisional): Dakar Rally 2022, stage 1B1. Daniel Sanders (GASGAS) 4:38.40
2. Pablo Quintanilla (Honda) 4:41:47
3. Matthias Walkner (KTM) 4:49.46
6. Sam Sunderland (GASGAS) 4:54.36
Download high-res images from the 2022 Dakar Rally here.