FORMER DAKAR CHAMP SAM SUNDERLAND TAKES PROVISIONAL EVENT LEAD.
TEAMMATE DANIEL SANDERS NOW CLOSE BEHIND IN THIRD.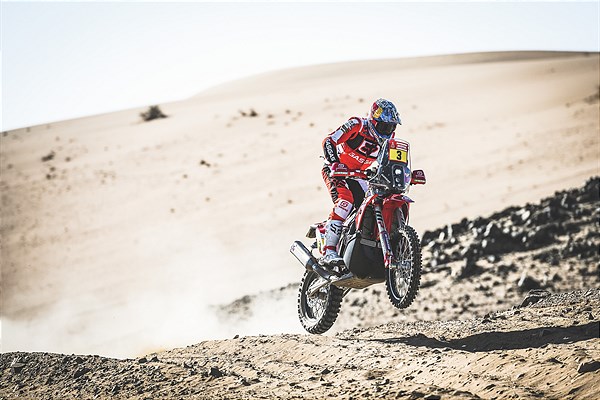 SAM SUNDERLAND SHINES ON DAKAR RALLY STAGE TWO
FORMER DAKAR CHAMP TAKES PROVISIONAL EVENT LEAD WITH TEAMMATE DANIEL SANDERS NOW CLOSE BEHIND IN THIRD
Oh, it's tight at the top now! Starting sixth on stage two of the 2022 Dakar Rally, Sam Sunderland put together a faultless display of riding and navigation to catch the front runners, lead the stage, and then bring his GASGAS RC 450F Rally home in a fine second place. The strong result moves the Brit to the top of the provisional leaderboard where he now enjoys a near three-minute advantage over his nearest rival. Fresh from taking his maiden Dakar stage win yesterday, Daniel Sanders did a great job of opening the majority of today's stage, frustratingly making a small but costly navigational error on his way into the finish, which led to him ending the special close to 25 minutes behind the day's winner.
Sam Sunderland produces exceptional form on stage two
Two GASGAS RC 450F bikes inside the provisional top three
Early rally leader Daniel Sanders now lies third overall
Sam Sunderland:
"It was an interesting day today and it certainly went a bit more smoothly than yesterday, which is what I wanted. I started sixth and focused on just pushing hard to catch the leaders. There was some tricky navigation, but I figured out the way pretty quickly and caught up to Van Beveren. We then caught up with a few more of the leading guys so from there onwards we took it in turns to navigate and it was a pretty cool way to end the stage."
Keeping a cool head in the face of adversity is an essential attribute to rally success so when Daniel Sanders found himself on the wrong side of canyon nearing the end of stage two, he had to make a quick decision. Instead of turning back, he opted to jump his GASGAS RC 450F clean over it to get himself back in the race, which, fortunately, worked out perfectly! From there onwards it was a hard charge to the finish line. Despite losing a little bit of time, Sanders lies in a strong third in the overall provisional classification, just three-and-a-half minutes down on teammate Sunderland.
Daniel Sanders:
"Today was pretty wild to begin with as it was pretty cloudy and the stage was super-fast early on. I had a good day going until after a fuel stop where I went down the wrong side of a canyon and lost a little bit of time. In the end I had to jump over it to get out of it but once back on the right line I pushed on to the finish. A little frustrating but I was able to make up some time in the dunes so all in all, not a bad day really."
Results (provisional): Dakar Rally 2022, stage 2
1. Joan Barreda (Honda) 3:31:20
2. Sam Sunderland (GASGAS) 3:36.53
3. Kevin Benavides (KTM) 3:37.14
23. Daniel Sanders (GASGAS) 3:56.18Overall Provisional Classification (after stage 2)1. Sam Sunderland (GASGAS) 8:31.29
2. Adrien Van Beveren (Yamaha) 8:34:20
3. Daniel Sanders (GASGAS) 8:34.58
Download high-res images from the 2022 Dakar Rally here.