TOP-FIVE RESULT FOR BENAVIDES ON DAKAR DAY FOUR
HUSQVARNA FACTORY RACING RIDER LUCIANO BENAVIDES DELIVERS BEST STAGE FINISH SO FAR WITH STRONG FIFTH-PLACE RESULT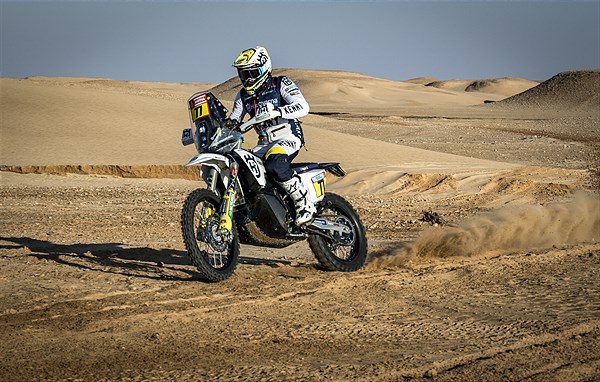 TOP-FIVE RESULT FOR BENAVIDES ON DAKAR DAY FOUR
HUSQVARNA FACTORY RACING RIDER DELIVERS BEST STAGE FINISH SO FAR WITH STRONG FIFTH-PLACE RESULT
Husqvarna Factory Racing's Luciano Benavides has put in an exceptionally strong performance on the long, 465-kilometre timed special on day four of the 2022 Dakar Rally to secure a fifth-place stage finish. The Argentinian moves up five places in the event standings to 20th. Teammate Skyler Howes, who set off as the fourth rider into the special due to his result from Tuesday's stage three, placed 21st, successfully defending his top-10 placing in the overall standings.
An early start welcomed the riders for today's fourth full stage of the rally, and with a long and more technically demanding route ahead of them than on previous days, all competitors had to stay fully focused and committed for the entirety of the special. Accomplishing just that, Luciano Benavides completed the 465 kilometres in just over four hours, making the minimum of mistakes while moving up through the field to ultimately claim fifth place. The number 77 continues to claw back the time he lost on the tough first stage of the rally and now sits 20th in the provisional overall standings. He will set off fifth on Thursday's 341-kilometre special, looking to make up even more time on those in front.
Faced with the task of starting fourth into the longest stage of the event, Skyler Howes knew a consistent day of racing would be necessary to lose the minimum of time to his chasing rivals. The American star was able to not only do that but also maintain a speed that placed him a commendable 21st when he reached the stage finish. Although he dropped four places in the standings, Skyler still sits in an excellent eighth overall heading into stage five.
Luciano Benavides:
"Stage four was a really long stage – the longest of the rally, so I'm happy to finish well and inside the top five. I kept focused on my navigation and it paid off, I was able to catch and pass some riders ahead of me, and I was able to keep a good speed for the whole stage without any big mistakes. The result is really encouraging, especially after such a tough day on stage one where a lot of us lost a lot of time. The bike is perfect and now I'm really looking forward to pushing hard for the rest of the race."
Skyler Howes:
"Things went well for me today, and I'm pleased with how I rode the stage. After yesterday's decent result, I started right near the front and the navigation was just tricky enough that we soon ended up in a group riding together. We all took it in turns to open and it meant although we didn't make up too much time on those around us, we didn't lose that much time to those behind. I made it to the finish line without having to correct too many mistakes, so I'm happy with that. I lost a bit of time, but that's understandable, so I'll regroup and push some more tomorrow."
Download images from the 2022 Dakar Rally here.
2022 Dakar Rally – Stage 4 Provisional Classification
1. Joan Barreda (Honda) 4:06:06
2. Pablo Quintanilla (Honda) 4:10:43
3. Rui Goncalves (Sherco) 4:14:05
4. Lorenzo Santolino (Sherco) 4:15:02
5. Luciano Benavides (Husqvarna) 4:16:01
6. Sam Sunderland (GASGAS) 4:16:21
… 21. Skyler Howes (Husqvarna) 4:27:42 2022 Dakar Rally – Overall Provisional Classification (after stage 4)
1. Sam Sunderland (GASGAS) 15:30:01
2. Matthias Walkner (KTM) 15:33:01
3. Adrien Van Beveren (Yamaha) 15:34:55
4. Daniel Sanders (GASGAS) 15:37:08
5. Lorenzo Santolino (Sherco) 15:40:29
6. Pablo Quintanilla (Husqvarna) 15:41:14
… 8. Skyler Howes (Husqvarna) 15:45:17 20. Luciano Benavides (Husqvarna) 16:31:55

Husqvarna Motorcycles GmbH
Stallhofnerstraße 3
5230 Mattighofen, Austria
This e-mail is not displayed correctly? View online.