STRONG RIDES FROM SAM SUNDERLAND AND DANIEL SANDERS ON DAKAR RALLY STAGE FIVE
STRONG RIDES FROM SAM SUNDERLAND AND DANIEL SANDERS ON DAKAR RALLY STAGE FIVE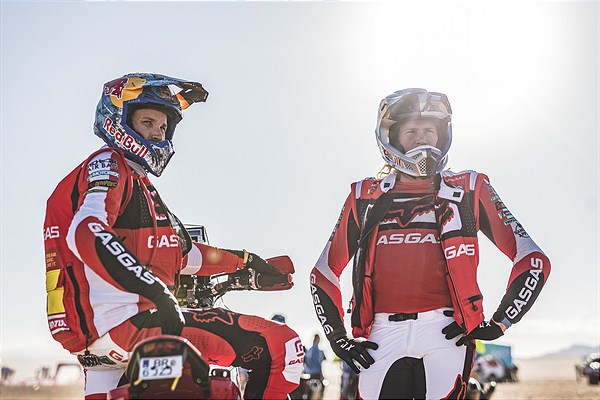 STRONG RIDES FROM SAM SUNDERLAND AND DANIEL SANDERS ON DAKAR RALLY STAGE FIVE
GASGAS FACTORY RACING'S RALLY STARS KEEP PUSHING HARD AS SUNDERLAND MAINTAINS THE OVERALL RALLY LEAD WHILE SANDERS STAYS FOURTH AFTER A TOUGH DAY OF RACING
When the going gets tough, the tough get going! Stage five of the 2022 Dakar Rally was anything but easy, featuring a true mix of terrain that challenged both Sam Sunderland and Daniel Sanders. Doing what they do, the GASGAS Factory Racing duo safely reached the end of the special to maintain their strong positions in the provisional overall classification. With five long and physically demanding stages now complete, Sam maintains his place at the top of the leaderboard thanks to a 12th place finish today while Daniel completed the special one spot behind in 13th to remain fourth in the general ranking.
Sam and Daniel dig deep on demanding fifth stage
Both riders hold strong positions in the overall classification
One stage to go before the Dakar Rally rest day
Daniel Sanders:
"Today started off really well and I was able to make up a lot of time before the fuel stop. Then at kilometer 270 I ended up passing the same waypoint twice, so I'm not sure if that was my mistake or not. After it happened I knew that I had to just push on to the end. Unfortunately, and also fortunately, I crashed and my shoulder popped out but luckily it went back in by itself and I was able to continue on to the finish. It was a crazy day and I'm glad to have reached the finish line."
After his heavy fall yesterday, Sam Sunderland knew that he was in for a tough day of racing today. But knowing he needed to deliver a strong result to maintain his lead in the rally, the experienced Brit managed to ignore the neck and shoulder pain he was experiencing to bravely complete the fifth stage as the 12th fastest rider. Now, with just one stage to go before the event's much needed rest day, Sam retains his place at the top of the overall timesheets.
Sam Sunderland:
"I knew I was in for a tough day after my crash yesterday, so it was a case of survival mode for me today. It was difficult for sure but as the stage went on I felt better and better and had a nice, strong pace through the sand near the end. Besides my crash the race is going well so far. I'm still leading, which is great, but as we've seen there is some tricky navigation at times so it's important to really focus on the roadbook and keep mistakes to a minimum."
Results (provisional): Dakar Rally 2022, stage 5
1. Danilo Petrucci (KTM) 3:23:46
2. Ross Branch (Yamaha) 3:23:48
3. Jose Ignacio Cornejo (Honda) 3:23:51
12. Sam Sunderland (GASGAS) 3:31:4913. Daniel Sanders (GASGAS) 3:32:43Overall Provisional Classification (after stage 5)1. Sam Sunderland (GASGAS) 19:01:50
2. Matthias Walkner (KTM) 19:04:19
3. Adrien Van Beveren (Yamaha) 19:07:49
4. Daniel Sanders (GASGAS) 19:09:51
Download high-res images from the 2022 Dakar Rally here.
For further information concerning this press release please contact:

GASGAS
Communication Department
Stallhofnerstraße 3
5230 Mattighofen, Austria
press@gasgas.com

Follow us