GASGAS FACTORY RACING DOMINATE STAGE SIX AT THE DAKAR RALLY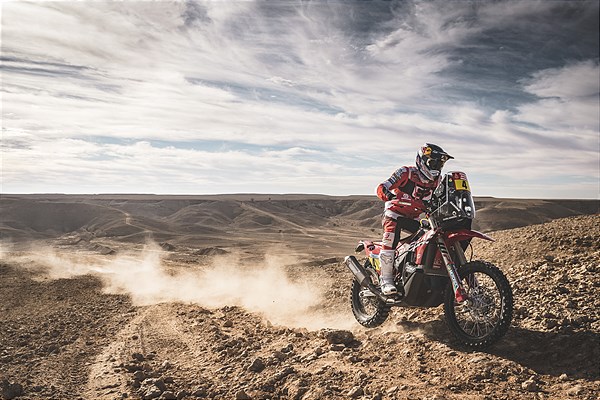 GASGAS FACTORY RACING DOMINATE STAGE SIX AT THE DAKAR RALLY
HARD CHARGING AUSSIE DANIEL SANDERS CLAIMS VICTORY WITH PROVISIONAL LEADER SAM SUNDERLAND RIGHT BEHIND IN SECOND PLACE
One-two in today's shortened stage and one-three in the provisional overall, not a bad first week's work for GASGAS Factory Racing's Sam Sunderland and Daniel Sanders! At the end of a wild opening six days of desert racing at the 2022 Dakar Rally, Sam holds onto the top spot of the provisional overall leaderboard while Daniel claimed his second stage win of the race, moving up to third in the overall provisional classification. Shortened due to safety concerns, stage six saw riders head back to the bivouac early, where they'll remain for tomorrow's official rest day.
Sam Sunderland continues to lead the 2022 Dakar Rally
Daniel Sanders wins stage six and moves into third overall
GASGAS Factory Racing ready to enjoy the event's rest day
Daniel Sanders: "It was going really well for me today and I guess it ended well actually with another stage win. I started off strong, a bit like I have all week, but it was soon pretty clear that the stage was pretty chewed up from yesterday after the trucks had raced through it. So, then it was a case of trying to focus on the dangers in the roadbook but because of how the stage was, there were plenty of additional dangers to keep an eye out for. I'm a little disappointed that today was cut short, though. There was a long day ahead where it would have been possible to make up some time but I'm happy to have taken another stage win and I'm looking forward to next week."

Rounding out a strong and consistent week of racing, Sam Sunderland finished as runner-up on stage six, just a couple of minutes behind Daniel. Able to accurately read the challenging terrain, the Brit applied a cautious approach throughout the abbreviated special. Safely bringing his GASGAS RC 450F Rally home on the shortened, 100-kilometer stage without any issues, Sam importantly maintains his lead in the provisional standings.
Sam Sunderland:
"Ahead of today there were quite a few riders concerned about how the stage would be after the trucks had raced it yesterday, and it was unbelievable out there. So many rocks and square edges where trucks spin up the dirt and leave the rocks behind. So, on a bike, you're basically coming up to half meter high walls of rock everywhere. You then start going offline to find smooth lines but then your roadbook isn't quite right as you've ridden away from the correct line. For me it was the right decision for it to be shortened today and I'm happy to reach the halfway point still in the lead. I'm looking forward to the rest day tomorrow and a chance to recharge my batteries ahead of next week."
Results (provisional): Dakar Rally 2022, stage 61. Daniel Sanders (GASGAS) 0:51:432. Sam Sunderland (GASGAS) 0:54:09
3. Matthias Walkner (KTM) 0:54:19
Overall Provisional Classification (after stage 6) 1. Sam Sunderland (GASGAS) 19:55:59
2. Matthias Walkner (KTM) 19:58:38
3. Daniel Sanders (GASGAS) 20:01:34
Download high-res images from the

2022 Dakar Rally here.