LUCIANO BENAVIDES 11TH FASTEST ON STAGE SIX AT 2022 DAKAR RALLY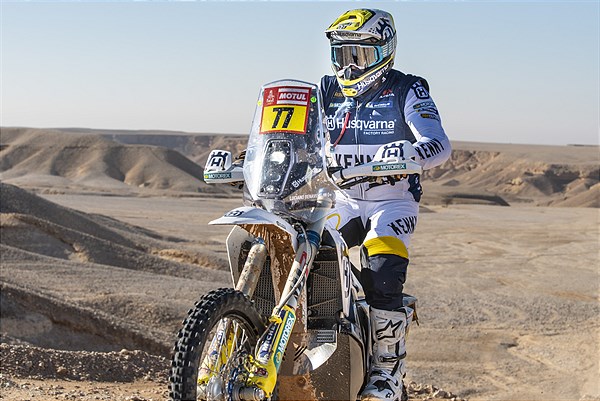 LUCIANO BENAVIDES 11TH FASTEST ON STAGE SIX AT 2022 DAKAR RALLY
HUSQVARNA FACTORY RACING RIDER LIES 17TH OVERALL AT THE CLOSE OF WEEK ONE IN SAUDI ARABIA
Luciano Benavides has delivered a solid but cautious performance on the much-shortened timed special on day six of the 2022 Dakar Rally, to complete the stage in 11th place. With the planned route following that of the trucks and cars from the day before, the tracks were notably damaged with many new dangers appearing, which weren't included on the riders' roadbooks. Realising the situation, Benavides used his experience to carefully navigate his way through the stage, ensuring a safe finish.
Originally planned to cover 404 kilometres, stage six was ultimately cut short by the organisers after it was found that the terrain was far more treacherous than first anticipated, due to the passing of the four-wheeled competitors the day before. Reduced to a quarter of its length, stage times were taken from the first refuel point.
Showing especially strong form over the previous couple of stages, Luciano Benavides came into day six looking to move further up the overall ranking ahead of Saturday's rest day. As the 10th rider into the special it was immediately obvious to him that the tracks were heavily damaged, and caution was required in order to minimise any mistakes or crashes on the unpredictable terrain.
A solid but safe ride saw the Argentinian arrive at the refuelling point in 11th place, where he learned that the stage would be cut short. Frustrated not to have been able to make up more time on his rivals, but happy to come away from the stage without damaging himself or his bike, Luciano now looks forward to the rest day, and ahead to the second week of racing at this year's Dakar.
Luciano Benavides:
"Honestly, I think the organisers made the right decision today. We knew the stage would be cut up quite badly – it always is when we follow the trucks and cars. This one seemed quite bad, and it was very easy to make a mistake, especially as a lot of the dangers weren't listed in the roadbook. I'm happy with how I rode the stage – I chose not to push too hard, to use my brain and bring the bike home safely. Finishing 11th is ok, and it gives me a good start position for Sunday. Now, I'm looking forward to having some rest tomorrow. I feel pretty good, I think I was definitely very well prepared for this year's race physically, but the final week is always tough and I want to be as strong as I can be to do my best."
Download images from the 2022 Dakar Rally here.
2022 Dakar Rally – Stage 6 Provisional Classification
1. Daniel Sanders (GASGAS) 0:51:43
2. Sam Sunderland (GASGAS) 0:54:09
3. Matthias Walkner (KTM) 0:54:19
4. Pablo Quintanilla (Honda) 0:54:58
5. Ricky Brabec (Honda) 0:55:02
6. Mason Klein (KTM) 0:55:16
… 11. Luciano Benavides (Husqvarna) 0:56:29 2022 Dakar Rally – Overall Provisional Classification (after stage 6)
1. Sam Sunderland (GASGAS) 19:55:59
2. Matthias Walkner (KTM) 19:58:38
3. Daniel Sanders (GASGAS) 20:01:34
4. Adrien Van Beveren (Yamaha) 20:03:42
5. Pablo Quintanilla (Honda) 20:13:43
6. Lorenzo Santolino (Sherco) 20:14:21
… 17. Luciano Benavides (Husqvarna) 20:59:35

Husqvarna Motorcycles GmbH
Stallhofnerstraße 3
5230 Mattighofen, Austria