RUNNER-UP FINISH FOR TADDY AT SUPERENDURO ROUND TWO IN HUNGARY
RUNNER-UP FINISH FOR TADDY AT SUPERENDURO ROUND TWO IN HUNGARY. BOUNCING BACK FROM A TURBULENT CHAMPIONSHIP OPENER TADDY BLAZUSIAK TAKES A RACE WIN ON ROUTE TO A HARD-FOUGHT RUNNER-UP RESULT IN BUDAPEST

Tweet
RUNNER-UP FINISH FOR TADDY AT SUPERENDURO ROUND TWO IN HUNGARY. BOUNCING BACK FROM A TURBULENT CHAMPIONSHIP OPENER TADDY BLAZUSIAK TAKES A RACE WIN ON ROUTE TO A HARD-FOUGHT RUNNER-UP RESULT IN BUDAPEST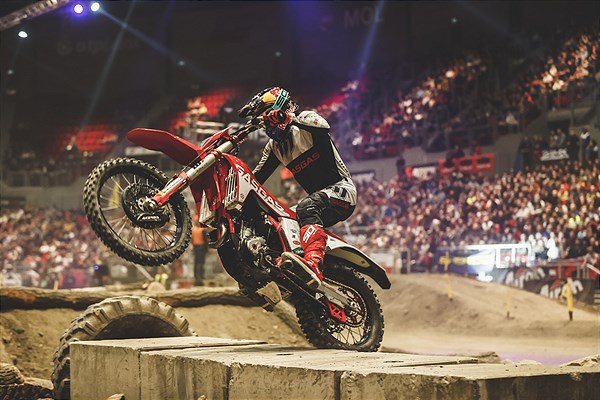 RUNNER-UP FINISH FOR TADDY AT SUPERENDURO ROUND TWO IN HUNGARY
BOUNCING BACK FROM A TURBULENT CHAMPIONSHIP OPENER TADDY BLAZUSIAK TAKES A RACE WIN ON ROUTE TO A HARD-FOUGHT RUNNER-UP RESULT IN BUDAPEST
Putting what was a frustrating night of racing at the opening round of the 2022 FIM SuperEnduro World Championship in Poland behind him, GASGAS Factory Racing's Taddy Blazusiak turned on the old magic tonight at round two, claiming a solid runner-up result inside the Papp Laszlo Sportarena in Budapest! Also earning his first heat race win of the series, Taddy's hard work and consistency helped him jump up to third in the championship standings, just one point behind second-placed Colton Haaker.
Blazusiak places second overall at SuperEnduro round two
Polish ace makes perfect start to night's racing with heat one win
Solid Hungarian result lifts Taddy to third in SuperEnduro standings
Showing determination, precision, and no shortage of commitment during the opening heat race in Budapest – the very same traits that have helped him claim countless SuperEnduro race wins over the years – Taddy unquestionably proved that his off night at round one on Poland was exactly that, nothing more than an off night. With his GASGAS EC 350F powering him away from the start, Taddy hit the front and held the lead for several laps before arm pump forced him to release his grip on the top spot. But it didn't last long! With Billy Bolt making a mistake, Taddy pounced, re-took the lead and held on for a deserved race win.
Race two was another good one for Taddy, riding well throughout and finishing just under four seconds behind winner Bolt. In doing so he headed into the night's third and final heat tied on points for the overall event win with the Brit.
Frustratingly, an overall win wasn't to be for Taddy. Tucking his front wheel in the first turn meant he had to play catch-up, battling his way from the back of the pack to an eventual fourth-place result. Despite not being able to challenge for the win, Taddy did enough to finish second overall and jump to third in the series standings.
Taddy Blazusiak:
"I'm really happy with how things have gone tonight. It's great to be back up there battling at the front. The first heat went well, I hit my lines, didn't make too many mistakes, so it was good. I did get some arm pump, which meant I had to let Billy go about halfway through the first moto. But he made a mistake and I was able to get him back for the win. I felt like I had good speed and could race with Billy. In the final heat I went all-in but tucked the front in the first corner. That was frustrating, but overall, compared to the luck I had in Poland at round one, it's been a great night. My bike was great, my fitness was where it needs to be, and my speed was good also."


Download images from SuperEnduro round two here.
FIM SuperEnduro World Championship, Round 2, Hungary
Event Classification
1. Billy Bolt (Husqvarna) 60 points
2. Taddy Blazusiak (GASGAS) 50
3. Jonny Walker (Beta) 46
Prestige Race 1 1. Taddy Blazusiak (GASGAS)
2. Billy Bolt (Husqvarna)
3. Jonny Walker (Beta)
Prestige Race 2
1. Billy Bolt (Husqvarna)
2. Taddy Blazusiak (GASGAS)
3. Jonny Walker (Beta)
Prestige Race 3
1. Billy Bolt (Husqvarna)
2. Colton Haaker (Husqvarna)
3. Jonny Walker (Beta)
4. Taddy Blazusiak (GASGAS)
Championship standings (after round two)
1. Billy Bolt (Husqvarna) 123 points
2. Colton Haaker (Husqvarna) 88
3.Taddy Blazusiak (GASGAS) 87