LANGENFELDER WINS OPENING ROUND OF 2022 FIM MOTOCROSS WORLD CHAMPIONSHIP
JORGE PRADO AND SIMON LANGENFELDER TAKE MOTO VICTORIES AT GRAND PRIX OF GREAT BRITAIN

Tweet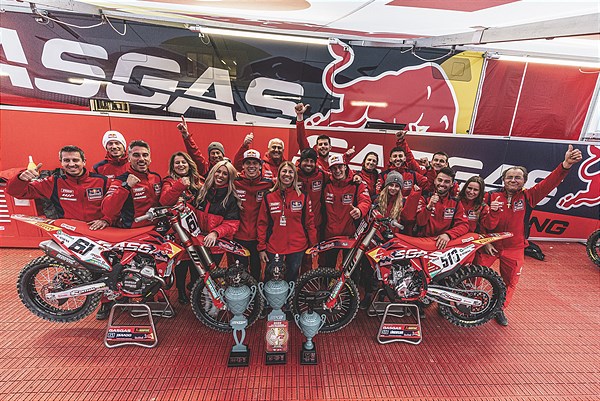 SIMON LANGENFELDER SWEEPS OPENING ROUND OF 2022 FIM MOTOCROSS WORLD CHAMPIONSHIP
JORGE PRADO AND SIMON LANGENFELDER TAKE MOTO VICTORIES AT GRAND PRIX OF GREAT BRITAIN
Red Bull GASGAS Factory Racing's Simon Langenfelder has made history on his MC 250F! Competing at the opening round of the 2022 FIM Motocross World Championship, alongside teammates Mattia Guadagnini and Jorge Prado, Langenfelder got on the gas to sweep both MX2 motos and climb atop the overall podium for the first time in his career.
Simon Langenfelder claims historic overall victory in MX2 division.
Jorge Prado takes his first MXGP moto win in new GASGAS colors.
Red Bull GASGAS Factory Racing riders claim every holeshot on race day.
Ripping to pole position in the MX2 class for the first time in his young career, Simon Langenfelder entered Sunday's motos with momentum on his side. That was momentum that he used well! Using the power within his MC 250F, he pulled the holeshot in moto one and led every single lap en route to a dominant victory. Langenfelder set the fastest lap of the race and was four seconds ahead at the end.

The MC 250F helped Langenfelder get ahead of the field and claim yet another holeshot in the final MX2 moto. Immediately engaging in a tussle with a former world champion, Langenfelder kept his cool and showed experience beyond his years whilst battling for his maiden overall victory. Such an impressive effort helped him secure the win in moto two and leap atop the overall podium at the Grand Prix of Great Britain. Langenfelder also took the red plate in the MX2 class.

Simon Langenfelder: "I did not expect this! I came into the weekend with the goal of doing my best. I did not think about positions or anything. I felt so good in the qualifying race and then I had two really good starts today. The second moto was tough, fighting with the other riders, but I just tried to do my best and go forward. I am so happy to go home with the red plate."

Jorge Prado showed exactly what the MC 450F can do in the two premier-class motos – he stormed to the holeshot line first each time. Struggling with his rhythm in the first moto, he eventually settled into fourth and turned attention to the second moto where he felt much more at home on the tricky circuit. Prado was in an entertaining fight for the win in moto two and claimed it after leading thirteen of the fourteen laps. A 4-1 scorecard put Prado in second overall at the Grand Prix of Great Britain.

Mattia Guadagnini was making impressive progress after a tricky start in the first MX2 moto, as he charged forwards after starting outside of the top ten. A fall just after the halfway mark caused him to lose valuable ground, however, and then an additional crash forced him to settle for thirteenth at the checkered flag. Completing the first lap of the second moto in twelfth, he made more steady progress and eventually made his way into eighth place. Eleventh is where he placed in the overall classification.

Jorge Prado: "Today was a great day! It is perfect to start the season on the podium. I felt a bit rusty in the first moto and did not really have a good rhythm in the beginning. The last two laps were good, so I knew that the second moto would be a bit better. I felt more relaxed. The start was important here, because the sun was very low. I was running a good pace after the start – I knew I had a chance and could not throw it away. I pushed as hard as possible and won the moto, so I am very happy. I feel good."

Mattia Guadagnini: "It was not the best weekend! I did not get a good start in either moto today. I was fighting for ninth in moto one and had a big crash, then I crashed again. I had a really bad start in the second race and went off the track in the second turn. I was feeling better though and got to eighth. This is not what I was expecting at the first round, but it is only round one and we are going home healthy."

The Red Bull GASGAS Factory Racing trio will now turn their attention to the second round of the 2022 FIM Motocross World Championship, the Grand Prix of Lombardia, which will be run at the sandy circuit of Mantova on March 06.

Download high-res images of our racers in action at the MXGP of Great Britain here.

Results – 2022 FIM Motocross World Championship, Round One

MXGP – Overall
1. Tim Gajser (Honda) 47pts
2. Jorge Prado (GASGAS) 43pts
3. Jeremy Seewer (Yamaha) 40pts

MXGP – Moto One
1. Tim Gajser (Honda)
2. Jeremy Seewer (Yamaha)
3. Maxime Renaux (Yamaha)
4. Jorge Prado (GASGAS)

MXGP – Moto Two
1. Jorge Prado (GASGAS)
2. Tim Gajser (Honda)
3. Glenn Coldenhoff (Yamaha)

MXGP – Standings
1. Tim Gajser (Honda) 47pts
2. Jorge Prado (GASGAS) 43pts
3. Jeremy Seewer (Yamaha) 40pts

MX2 – Overall
1. Simon Langenfelder (GASGAS) 50pts
2. Tom Vialle (KTM) 42pts
3. Jago Geerts (Yamaha) 40pts
11. Mattia Guadagnini (GASGAS) 21pts

MX2 – Moto One
1. Simon Langenfelder (GASGAS)
2. Tom Vialle (KTM)
3. Kay de Wolf (Husqvarna)
13. Mattia Guadagnini (GASGAS)

MX2 – Moto Two
1. Simon Langenfelder (GASGAS)
2. Jago Geerts (Yamaha)
3. Tom Vialle (KTM)
8. Mattia Guadagnini (GASGAS)

MX2 – Standings
1. Simon Langenfelder (GASGAS) 50pts
2. Tom Vialle (KTM) 42pts
3. Jago Geerts (Yamaha) 40pts
11. Mattia Guadagnini (GASGAS) 21pts

For further information concerning this press release please contact:

GASGAS
Communication Department
Stallhofnerstraße 3
5230 Mattighofen, Austria
press@gasgas.com

Follow us