CHECK OUT NAVAS PETIT'S NEW FREERIDE VIDEO SERIES – BALA PERDIDA
GASGAS ambassador Navas Petit knows how to ride. No matter where, it's always about big jumps, fun times, and keeping it wide open. And that's exactly what he does in A date in Almeria – the first episode of his new video series

Tweet
WATCH PREVIEW VIDEOS BELOW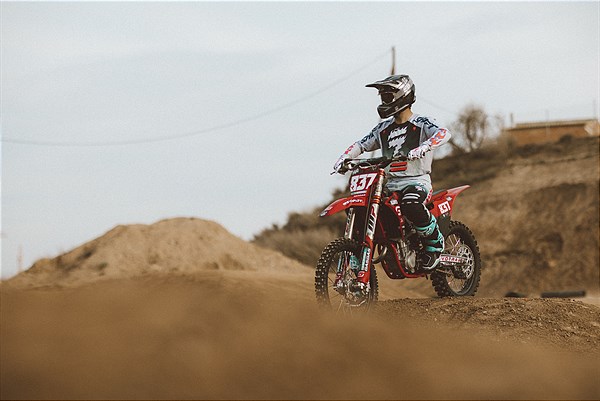 CHECK OUT NAVAS PETIT'S NEW FREERIDE VIDEO SERIES – BALA PERDIDA
SUPER SPANIARD KICKS THINGS OFF BY HEADING FOR THE HILLS IN SEARCH OF GOOD TIMES
GET ON THE GAS! It's the only way GASGAS ambassador Navas Petit knows how to ride. No matter where, it's always about big jumps, fun times, and keeping it wide open. And that's exactly what he does in
A date in Almeria
– the first episode of his new video series
Bala Perdida
. On his awesome MC 450F, Navas heads to a seriously spectacular Spanish motocross track to get his daily riding fix. Shredding berms, hitting freestyle ramps, and generally enjoying all kinds of aerial awesomeness, Navas truly shows what it means to be at one with a dirt bike. It's epic, full-throttle fun at its finest!
Watch episode one of Navas Petit's new freeride video series
GASGAS ambassador living his best life aboard his MC 450F
Subscribe to our YouTube channel and never miss an episode
Watch Navas Petit: Bala Perdida – Episode 1 NOW!
Teaming up with filmmaker Aleix Albet to create
Bala Perdida
, Navas Petit aims to showcase the finest riding spots in Spain as he continues to blur the lines between moto and freeriding. With a little Spanish culture thrown into each episode for good measure, the video series aims to give a closer look at the lifestyle of the fun-loving GASGAS ambassador as he seeks out ongoing freeride adventures.
Check it out now and watch Navas at one with his MC 450F!
Please feel free to embed this video onto any website! Watch it here!
Navas Petit: Bala Perdida – Episode 1
Discover more from Navas here –
Navas Petit: The Steezy Spaniard
For further information concerning this press release please contact:

GASGAS
Communication Department
Stallhofnerstraße 3
5230 Mattighofen, Austria
press@gasgas.com

Follow us